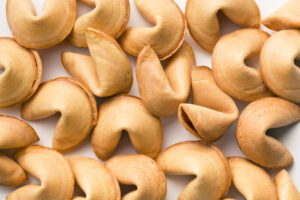 I've enjoyed my share of take out over the last year! My favorite, at least once a month, was Chinese. I'm a fan of spring rolls, those delightful veggie dumplings, orange crispy beef, chicken with broccoli in garlic sauce with a side of Lo Mein. While everything has changed in the last year, my Chinese dishes from PF Chang have remained consistently fresh and delicious. The only thing that has changed are the fortune cookies. 
Not so much the cookies themselves, but the fortunes! They used to be crazy, mysterious sayings that were never obvious and always open to interpretation. They had lucky numbers on them and sayings by the ancient gods and prophets. Today Fortune Cookies are woke!! As if they knew we needed it, they offer encouragement, sage advice and challenge us to rise up – go for it – take a risk. Here are some of my favorites.
An attempt at something new will be incredibly rewarding!  I love new – so this was one of my favorites. I only tried something once that left me disappointed. I just never did it again and it was rewarding to know that I tried even if the result was a disappointment. I can say with confidence – I'm done with it!
You will be successful in a business of your own!  This is true now and was true six years ago when I took the plunge. I wish I had gotten that cookie ten years ago! And, that it would have come with the next encouraging fortune. . .
Your creative mind will help you land a new job!  I don't think enough of us consider ourselves to be creative. We think that creativity is writing an opera, designing a dress, writing a mystery, painting a mural. I concede these are all creative endeavors. Now consider these creative adventures: getting a box of misfit vegetables and turning them into a wonderful and healthy meal. Figuring out how to store everything you used to keep in 4 closets in just two. Giving a friend the courage to walk away from a toxic relationship without them realizing you were telling them what to do. While you may not want or need a new job – do try one creative thing a week. Creativity simply requires looking at stuff you have seen everyday for years and seeing something new.
Finally – my favorite fortune. . .
Your imagination will point you in a new direction!  My favorite Frost poem is "Two roads diverged in a yellow wood . . . and I took the one less traveled by." I ask myself everyday "where will that take me"? I don't try to imagine the result, I try to imagine what it will feel like to set out, anticipate the journey and then arrive. There's no one way of doing anything – even if you do it every day or week or month. The bends and turns in the road will take in a new direction.
Lots of lessons from a humble fortune cookie!